It's the holiday season and busy as can be, with get-togethers, shopping and festivities. While you're preparing to host visiting family and friends, there are quite a few sweet treats that we recommend.
Wright's Gourmet Sandwich Shoppe
Wright's Gourmet is a local favorite located in the heart of Dunwoody Village and is known for their delicious sandwiches that are handmade with the freshest ingredients. What most people do not know about this small sandwich shop is that it has some of the best sweet treats around. In a pinch?  Wright's has whole cakes ready for the taking so you are able to grab and go. Individual slices are always available and pair perfectly with lunch or can be saved for a delicious afternoon pick-me-up. For a traditional take on cake, the Black Forest Cake is the right balance of cake and creamy icing while the Lemon Pound Cake is a sweet alternative to the traditional chocolate flavor and is also continuously raved about by guests.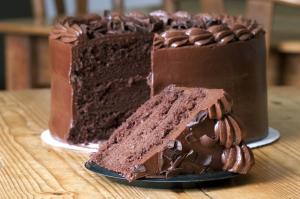 When you enter this coffeehouse and restaurant, it is almost as if you are on a mini European vacation. Everything from the sights, sounds and smells makes you feel as though you are visiting abroad. Ambiance aside, this holiday season is the perfect time to plan a visit to sample their wonderful dessert offerings. Locally owned and operated, Café Intermezzo is best known for their beverage book of over fifty pages of delicious after dinner drinks, coffees, teas and cocktails (insider tip, start with the table of contents as there are roughly 1,200 beverage options to choose from). To satisfy your sweet tooth, peek inside their glass display cases for over seventy different types of pastries, cakes, mousses and other dessert items. Talk about options! For the sweets lover, their Cheesecake is continually named a customer favorite and pairs perfectly with their Nutella Hot Chocolate, which is a best seller. All options are available to enjoy at the restaurant or to take home with you.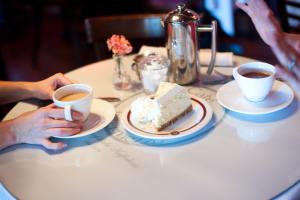 This award winning, neighborhood bakery and market features artisan breads, desserts, pastries, chocolates, sandwiches, salads, artisan cheeses and much, much more. All items are produced in house from local ingredients and while this is a European style bakery and market, the restaurant's location and southern influence inspires the flavor of many items sold here. Alon's pays tribute to neighborhood shops and local businesses by selling a variety of treats, candies, snacks and kick-knacks in the market, which serve as perfect stocking stuffers! Looking for a great hostess gift? Approximately 3,000 macarons of varying flavors are prepared each week at Alon's Bakery & Market and are available to package as an assortment or as a small goodie bag of your favorite flavor. Alon's is continually recognized for these small delicacies with Black Currant, Caramel and Pistachio being ranked as some of their top flavors.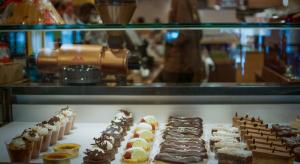 You scream, I scream, we all scream for… gelato? At Novo Cucina, yes we do! Named a 2015 Best of Atlanta winner, Novo Cucina offers artisanal pizza, classic pastas and other traditional Italian food items as well as a refreshing list of Enomatic wines, craft cocktails and an array of freshly spun gelato. Novo boasts the Atlanta area's only gelato artigianale- handcrafted gelati and sorbetti made from scratch daily with fresh, wholesome milk and cream. Eighteen flavors of this creamy treat rotate daily while showcasing the flavors of the season. This creative and unique gelato program is directed by Novo's very own gelataia who specializes in combining Italian tradition with American flavors. If you enjoy the occasional cannoli, try the Stracciatella flavor. Love Girl Sout Cookies? We recommend trying the Thin Mint gelato. Other notable flavors include Pistachio Cheesecake and Banana Pudding. This holiday season; make sure to visit Novo for a scoop (or two) of this delicious gelato in a frosty glass or crunchy cone.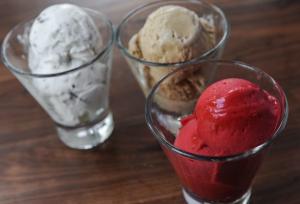 Fresh baked cookies will always be a holiday staple but with shopping, parties and the busy season, who has the time to bake them from scratch? Ali's Cookies has you covered! Ali's Cookies are baked the "old fashioned" way with the best and freshest ingredients, like sweet creamery butter, real vanilla and fresh cracked eggs. Specializing in over twenty different varieties, Ali's Cookies' recipes have been handed down and perfected over the past 29 years and are certified kosher under the supervision of the AKA (Atlanta Kosher Commission). Impress your colleagues at your office holiday party with an assortment platter or ship a delicious dozen to loved ones across the country. Whether you are looking to decorate your cookies with a festive design in icing or chocolate, celebrate the season with a cookie cake or just looking to leave a special treat for Santa, plan your holidays with Ali's Cookies.