Ah, l'amour!  No matter how long you and your spouse have been together, continuing to date is an easy way to keep the sparks flying. We get it, between careers, families and juggling busy schedules, you may be thinking, there aren't enough hours in the day to plan a date night. Well, you're in luck! Consider us your Dunwoody date night cruise director and follow this blog series so you can skip the planning and get straight to the romance. 
 
Food
You both just got off work and you're looking for the perfect place to eat and be merry. You want sushi because you always crave sushi, and your date wants a burger. Wouldn't it be great if there was some sort of fusion restaurant that served both so neither of you have to compromise? Lucky for you, there is. Meet your sweetheart at The Cowfish Sushi Burger Bar here in Dunwoody, and let the good times commence.

The Must Haves:
Eclectic. Vibrant. Fun. Cutting Edge. From the menu to the walls, these four words will describe your entire Cowfish experience. Ask for the menu presentation because there is so much to choose from and so many things you've probably never heard of. The appetizers alone will make the night a success. The Crab Rangoon Dip is the very first thing on the menu for a reason. Move your eyes further down and you'll discover Parmesan Bacon Truffle Fries. If you're torn (which you probably are) simply order an entree that comes with fries and ask to upgrade them to the Parmesan Bacon Truffle ones. Two words: life hack.
Another life hack is to order a bento box. The way you can try several things  on the menu and find your favorites. If your date orders one too, then you both can try twice as many options. We've got this ordering thing down to a science. Stick with us.
The crown jewel of this restaurant, and the inspiration behind their name, lies in the Burgushi. Burgushi is the unique fusion of burgers and sushi. It may sound off-putting at first, but trust us, you won't be disappointed. The favorite is the All-American Bacon Double Cheeseburgooshi. It's basically a burger in the form of a sushi roll. With bacon. It comes with fries, so do that little trick we taught you earlier. Your date will undoubtedly swoon.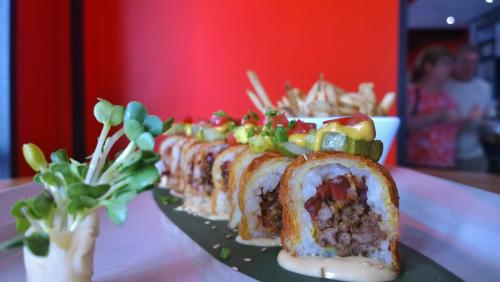 Whatever you order, be sure to wash it all down with something equally out of this world. Cowfish has it all from hot teas and spiked shakes to seasonal cocktails, beer, and wine.
 
Fun
So dinner was a hit. Keep the momentum going with an activity you both can enjoy. We suggest painting the town together, and sipping on your favorite beverage while doing it. In other words, sign yourselves up for a class at Painting With A Twist, Dunwoody's BYOB paint and sip art studio.


The Way It Works:
At your seat you will find your easel, an apron, and the necessary supplies to make your masterpiece. An experienced and energetic instructor will greet the class and show you the painting you'll be recreating for the night. Don't be intimidated by how good it looks - a little beer and wine can turn anyone into Picasso.
Step-by-step the instructor will guide you through ever stroke of the paintbrush. If you fall behind, you will be given time to catch up and there are also mini game breaks built into the class to jazz things up even more. By the end of the night you will have a timeless piece of fun art - maybe even fine art - to commemorate this amazing date.

 
Everyone knows the secret to a man's heart is through his stomach but women are a tad more complex. Guys, we hope this helps with setting the scene for a perfect night out and impressing that special lady in your life. Ladies, take matters into your own hands and treat the guy who still has your heart. Either way, take your date nights up a notch by following the rest of this series and share your love stories on social media using #DunwoodyDateNight. Ah, love.